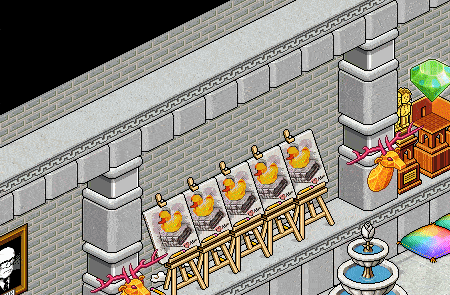 This week we have chosen the NFT Den of user iSmexi.
A very nice build room with a massive collection of different Habbo NFT (5 duck easels!) and Habbo legacy rares.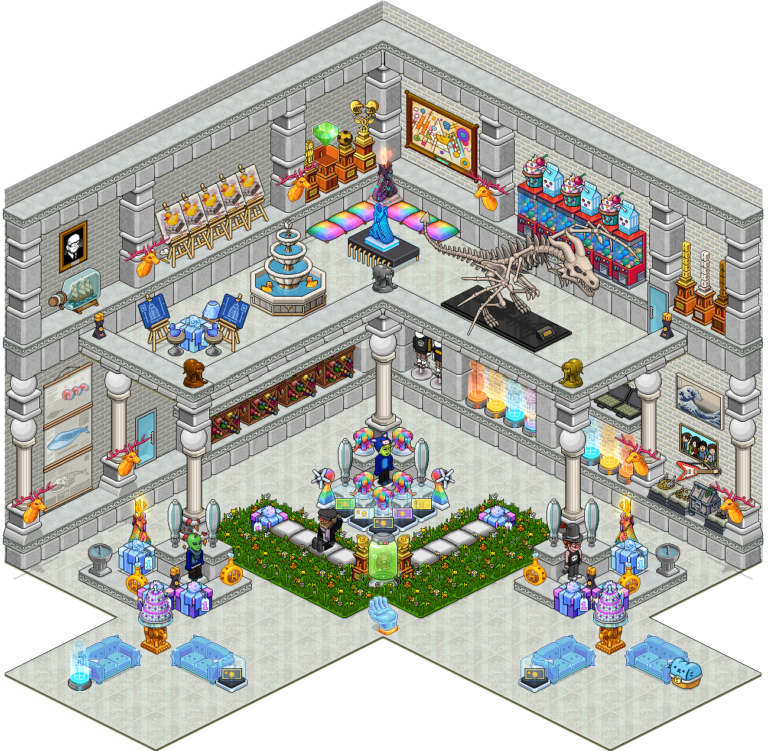 What inspired you to make this room?
I had recently entered into the Habbo NFT world and had finally bought a few NFT items. I had seen some super cool display rooms made by other users and figured it was time to make my own (or at least take a crack at it).
I built a version of this room with A LOT less items but during the 1 year anniversary of the NFT campaign I not only got lots of items from the gifts, but also bought a few other things to make the room cooler! Slowly but surely the room came together with the items in it, and I've ever bought some cool non-NFT items to display there! Most recently has been my addition of my 5 MET AMS Easels which I'm obsessed with. Hopefully I get to add the new trippy fountain soon!!
How long have you been building?
Oh wow! Probably too long, haha. I started playing around 2004 and probably started room building in around 2006/2007. I take a lot of inspiration from many eras of building and usually prefer the old school styles, but this room ended up being more modern in deselegant. very simple and elegent (I hope, haha).
What's your opinion on the NFT project?
I'm pretty excited about it and I've invested a good bit into it. I think sulake is in a position to take what they've done with the legacy habbo clients and bring a better version to the metaverse with HabboX! And that's super exciting to watch as someone whos played habbo for almost 20 years!
But I think they need to make some critical changes to appeal to their user base (which they're starting to do). I'd love to see more interesting items being released, maybe eventually not just "trippy" versions of items we have already on habbo. They've made some really cool rares and LTDs and such throughout the last 20 years and I'm sure they can bring that creativity to the NFT space.
However, it's still early days! I'm excited to see how HabboX pans out and some recent items releases are awesome, so hopefully things only get better and better.
Can you share something about your next project?
This seems to be a question i get often, haha! I don't know honestly. I just wait until I get inspiration and move to build. I am tempted by creating a second NFT hangout space that's a nice contrast to this bright, big room, so maybe a smaller cozy room with more earthy, dark tones. But we shall see!