Ksamra: I am definitely not any official spokesperson of anything…. all opinions and views are my own but lets try this.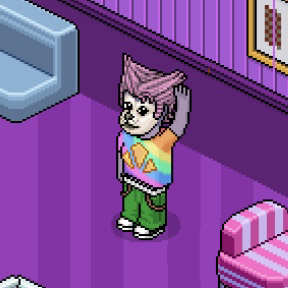 1. What do you love most about Habbo X?
Pheww… Not an easy one, for starters… Digital asset collecting and a whole economy built around that. Virtual spaces / metaverses to hang out and meet likeminded people and form strong communities… does it ring the bell?
Yes.
I think those things which today are coming with help of blockchain technology and that are very hyped, are the things which kind of have been in the very core of the Habbo from the day 1… From 22 years ago!
So of course i am in love and very excited to be able to be part of this amazing project that just feels right.
And yesterday when we launched the sneak peek and i was wandering around the rooms and listening to people chatting i really had a feeling of fresh breeze and that Habbo in a sense is again in the phase where we are starting to build something new from ground up! I am getting more exited about this all ! day after day!
2. What is the most favorite furni you have designed?
Well that's a little more easier one… When i did this furni, it was kind of a small funny thing i thought would add a little of that extra humour to the set of furnitures i had done. That furniture however started to live a life of its own… If you look it closely you can see the pixels are not perfect because i had no long history of pixel drawing but something just went right and that small duckie from the bathroom set is still kind of cool

3. Whats the least favorite you have designed?
Hmmm… when you do your work day by day and you just have to come up for new ideas even your head is empty its not always easy… Of course it helps a lot to be surrounded with talented people if you get stuck, and that is something which always has been the case for me while i have been working with Habbo…
There is some stuff i know i could have done better, but considering all circumstances i actually am quite happy of how things are.
So terrible answer to your question is that i i cannot pick an item what i wouldn't like because i like my work. working with Habbo.
4. What inspires you? Do you have any routines?
Yes, pixel graphics are based on quite strict rules that leads straight away to at least some routines.
Inspiration? Hmmm, i like small funny things in everyday life and the fact that even things sometimes won't go as you have planned you most probably can see some silver lining on every thing if you really want. Humour is one big inspiration for me and of course one of the things which inspires me most is to actually see people using stuff you have done and that something you have done might have some meaning for them.
5. Do you have a favorite avatar?
Hehee, i have said it already for someone but I am sooooooo jealous for Hajautus of his cool avatar! Maybe after next month's pay check i have to take a look if i could find some cool too!!!
6. What do you look forward to on Habbo X?
I mentioned a little of this one on the first question accidentally… I am not sure if i have any specific one or anything, but i just feel that whole thing with Habbo X is very exciting… We have a super cool team and it' s fun to work with them. And the whole Habbo organization is doing cool things too and it just feels good what everybody is doing. LOL. Is this too much??? maybe!!! sorry couldnt help myself
7. Do you have more talents to share? We saw a guitar video around the internet haha?
hehee…. that small guitar is ukulele and i am pretty crappy on playing it. But it's kind of fun sometimes to grab it and try to find some tunes even you are not able to keep rhythm or anything.