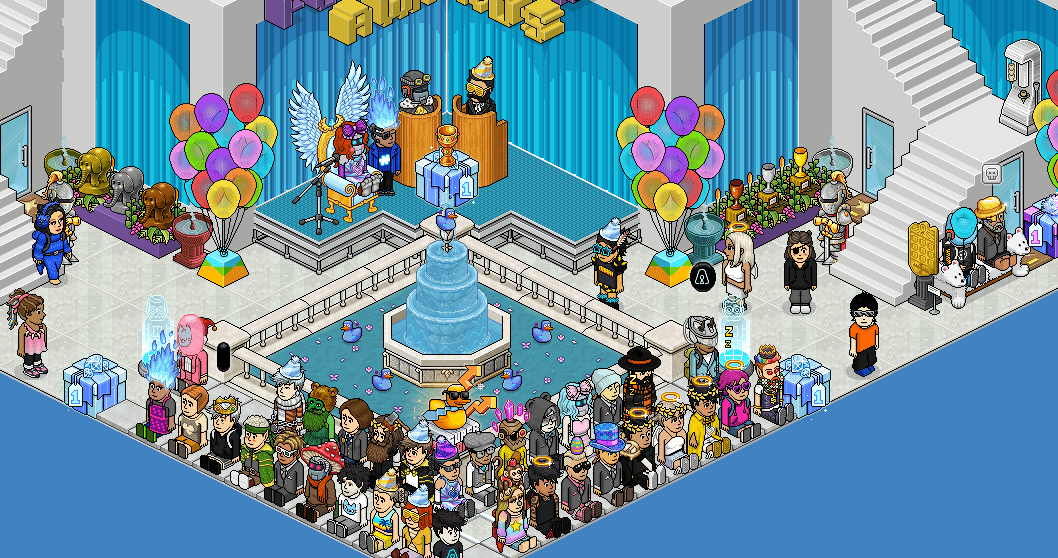 Awards season has come to Habbo! On September 28th, Habbo X fansite Furni.App hosted its first annual awards gala, with awards given out to a range of community members representing the creativity and passion of the Habbo NFT community. Winners were decided on the basis of a week-long nomination and voting period preceding the ceremony itself, and the audience brought together many familiar faces from across the hotel — including a surprise appearance from Habbo X staff member Hajautus!
Proceedings began with a brief welcome from Furni.App founder OG along with ceremony organizers Iason and Neon. Following introductions, Bab officially opened the event with a performance of her original "Habbo NFT Anthem", a personal track penned with her own experience as a web3 Habbo in mind. Though Bab proved a hard act to follow, OG and Iason moved to the focus of the evening: announcing the nominees and winners of each category, while winners in attendance gave thank you speeches to the cheering crowd.
Winners were each gifted a Diamond 1st Birthday Box and personalized trophy from OG in recognition of their achievement. In the audience, ten lucky voters who submitted either a nominations or voting ballot were awarded three Basic 1st Birthday Boxes each. With prizes in hand and congratulations in the air, the post-ceremony party was dominated by conversation relating to the Habbo X pre-alpha phase launched earlier in the day. While hotel development is still an ongoing process, the ceremony's talented pool of nominees demonstrated that the most important part of Habbo X — its incredible community — was already here.
For a full list of winners, please see below:
Community Champion Winners:
Neon
Habbo NFTer of the Year
Bean & GeneralBoom
Iconic Duo of the Year
JohnathanBlack
Influencer of the Year
Coraggio
Dealmaker of the Year
GeneralBoom
Community Moderator of the Year
Spacey
Conversationalist of the Year
Demigod
Meme Lord of the Year
"Most Likely To" Winners:
Eleonoraporta
Most likely to FOMO
Tarciso
Most likely to help a new user
Lou1e
Most likely to join a debate
Mamakevin2
Most likely to say something funny
Jess
Most likely to give awesome feedback
Lou1e
Most likely to cause controversy